Gravity
See Collection
Gravity Well Chandelier
A hand blown glass and formed acrylic chandelier inspired by visualization models of the gravitational effects by celestial bodies in space. Limited Edition of 20 pieces available in clear glass (A), clear & frosted combination (B) and all frosted glass (C). Free shipping is available for this piece.
Read More
Hand-blown borosilicate glass spheres sink into frosted plane, creating a visual representation of the gravitational warping of spacetime by celestial bodies in space.
Custom
If you are interested in custom materials or custom finishes for this or any of our other products we can work with you to create the perfect piece just for you.
Contact Us
If none of the above payment options work for you please contact us to see if we can arrange alternative options.

For more information about our returns and warranty policies see here

Learn more about how to pay at your own pace with Affirm: how it works
Product overview
Blown Glass, Acrylic, Steel

40" x 40" x 12"
100cm x 100cm x 300cm

44" x 44" x 15"
110cm x 110cm x 35cm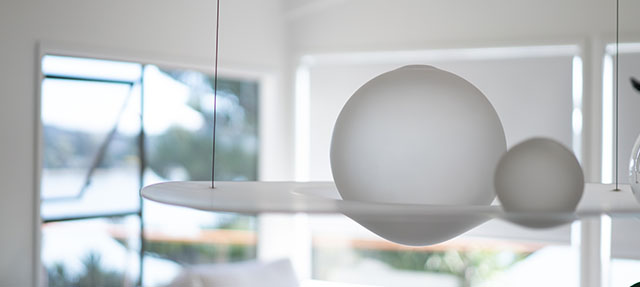 SPECIFICATIONS
Looking for more info on size, finish or other details?
Spec Sheet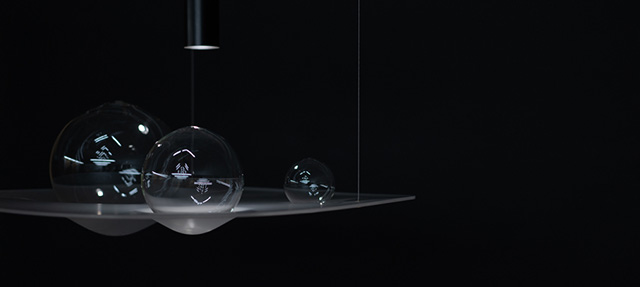 Finish Options
We can also offer custom glass to fit your needs, clear, colored, frosted or otherwise.
Read More
FAQ
Yes we can do both - one of the great things about the Gravity Well product is its potential for customisation. Reach out to us on our Contact page and let us know how you might like to customise and we can go from there.

Lead times vary depending on the scope and nature of the project, in general we require 6-8 weeks for standard product and 8-10 weeks for custom projects. We also do have expediting options available for those on a time crunch.

All our standard Gravity Well Chandeliers are designed to be either installed by yourself or your local electrician. For larger installations we can quote out installation assistance but often it is not necessary.

Yes, currently we work with a tallented glass blower in New Zealand who fabricates each of the spheres using borosilicate glass. Borosilicate is often used in glassware for science laboratories due to its strenght and heat durability.

Yes we ship all over the world, see shipping prices and options at checkout, from NZ Post to DHL.