Clouds
See Collection
Lampshade Cloud
Your very own indoor cloud - a stunning pendant light fixture that will be sure to bring a little sunshine to your space. Comes in three different sizes: S, M, L
Read More
Visually stunning, it perfectly captures the shape and texture of a cumulus cloud. It can be used as a stand-alone piece or grouped together in clusters to create a heaven-on-earth experience.
Custom
We have custom designed and built many very special clouds over the years, weather you want extra large, extra features or extra something-else we can make it happen. Contact us to let us know exactly what you are looking for.
Contact Us
If none of the above payment options work for you please contact us to see if we can arrange alternative options.

For more information about our returns and warranty policies see here

Learn more about how to pay at your own pace with Affirm: how it works
Product overview
S - 17" x 14" x 8"
M - 22" x 20" x 12"
L - 27" x 25" x 14"

S - 14" x 14" x 8"
M - 20" x 20" x 10"
L - 26" x 26" x 14"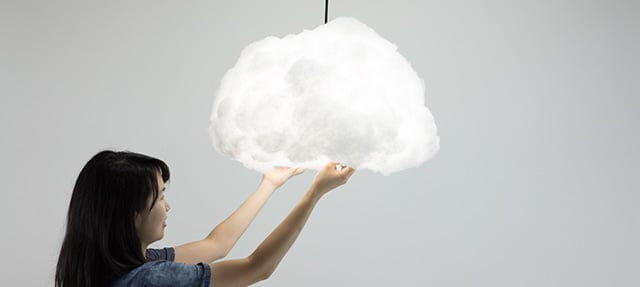 Specifications
Looking for more info on size, finish or other details?
Spec Sheet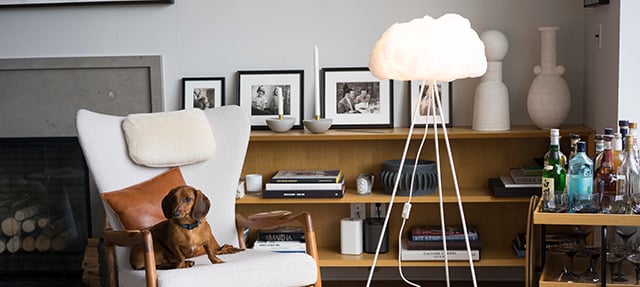 How to style
Read our style guide for how to style a cluster of Clouds
Explore
FAQ
Gently batt like a pillow to remove loose dust. If vacuuming is required do so through the special mesh disc that comes with each Cloud, the mesh will hold the fibers in place protecting the Cloud while you vacuum it.

Lead times vary depending on the scope and nature of the project, in general we carry stock of most Cloud products so they ship within a day or two. For custom projects we usually require around 8-10 weeks. We also do have expediting options available for those on a time crunch.

All our standard Clouds are designed to be either installed by yourself or your local electrician. For larger installations we can quote out installation assistance but often it is not necessary

Custom sized and/or custom feature clouds are priced using a volumetric formula that factors in the various di erent features. We have an interactive quoting template that you can adjust size and feature values until you and your perfect cloud at your given budget.

Yes we ship all over the world, see shipping prices and options at checkout, from USPS to DHL.